Tips From A Vintage Reseller and Online Seller
It's no secret I love instagram and the vintage/reseller community on instagram and I stay pretty active on instagram. I am by no means an influencer or authority on instagram but I do get a lot of questions from people that want to make reselling vintage items and other items a career or side hustle. One recent question from one of my instagram followers compelled me to write a blog post to answer the users questions. The question is below and my answer in length is further down.  The advice I share is what works for me and has worked for me in the past. So I hope someone gets some sort of valuable knowledge from the info I share.
The Message: LOVE your page!!! Any advice for a newbie treasure hunter?? Lol mainly how do you price your inventory?? EBay? Worthpoint?? And what is your main avenue you sell on?? Sorry for all the questions, I'm just really passionate and done with the rat race of life… Trying to make a real career out of this
---
First thank you for loving my instagram! If anyone wants to follow me on instagram see below: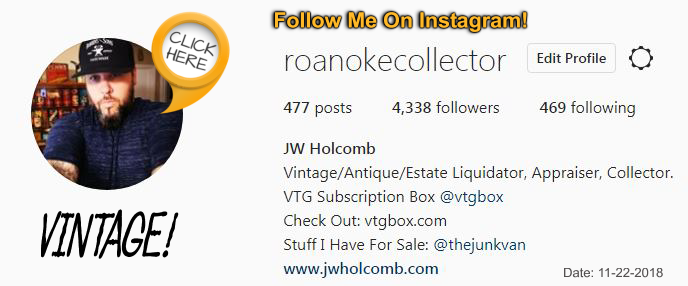 ---
Well for starters I have a lot of advice for a "Newbie Treasure Hunter" and will share as much as I can with you. Making a full time career out of selling vintage items or any items online is very rewarding, fun, and profitable (But Not Fast and Easy) – It is HARD real WORK. What you sell is very important and I know the person that sent this message is in to t-shirts and honestly that is a very saturated market – But if they are true vintage (hard to find t-shirts) then you may be in the right space! It is Very important to diversify yourself, your inventory, and look at inventory from the view of  others and from the current trends. But when it comes to Vintage items – Most people will always like what they like and items within that category. So, if someone likes Vintage Toys (*Hot Market) they will buy items relating to vintage toys no matter what newer cooler trend pops up in the markets. People who like old toys for example would buy t-shirts relating to transformers, super heros, Fandom, and so on…
I used to only buy items to resell that I liked or that I thought were cool – I don't like old buttons and sewing items but if I find a box full of vintage sewing items and large Bakelite and Lucite Buttons – I buy them to resell. But I honestly hate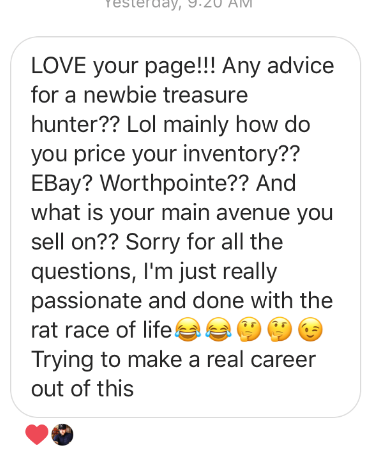 sewing items. But it is not about me! It is about the buyers and the market. So buy for the market! This is another point that is important – BUYING FOR THE MARKET (BUYING FOR YOUR MARKET). A friend of mine told me long ago that he only buys for the market and that resonated with me. He learned his market by doing market research and learning (watching) what people were buying and what each person collected so when he was out "Sourcing" or "Picking" he would buy items that he knew his shoppers already liked. So buy for your market if you can pinpoint it down to your shoppers or markets wants and needs.
BUT – Selling online you are dealing with a global market (not a local market) so you will have to be broad and bold with your buying. It is hard to make a real lucrative living (quickly) selling online if you buy 5-10 items to list each week from your local thrift shops and buying from these type of places you are accessing what everyone else is doing. Develop your own sourcing techniques and try  to BUY FROM THE SOURCE.
Sourcing Techniques – Buy From The Source
Everyone talks Goodwill, Thrift, Estate Sales, Yard Sales and I RARELY go to any of these places. Yard Sales I do hit a few block or neighborhood sales each year… The real treasures are sitting in peoples homes and will continue to sit there until they need one of 2 things SPACE or MONEY. A lot of people sit on hoards of great items in their homes and that is the MAIN SOURCE you want to buy from. Getting in to people's homes to buy items from them is easier than you think and when you hit a house full of good stuff, you need to do whatever it takes to buy, buy, buy as quickly as possible and once they start selling you items from their hoards keep the ball rolling. Be BOLD, ask them to show you the basement, attic, tell them you will pull everything out, and help them identify value in what they would consider junk.
Finding Houses and People To Buy From
Create a Google Business Listing (Your Name Estate Sales) and list your "new business" in the thrift store/vintage store category – People will start calling to sell you items and invite you over to the hoard! You don't actually need a store front to do this (BE CREATIVE) – You will have to "game" google a little.
FaceBook Page – Make a page and share your finds and info. on FB – Link your instagram to your facebook page (make your instagram a business account)
Craigslist – I get a lot of cals from sellers on craigslist – I run an IMAGE as in multiple categories – (Antiques – Wanted – Collectibles and More). The image ad I use is below:
NETWORK with other shops and dealers let them know you buy stuff – they will refer people to you from time to time.
Always be on the lookout for stuff to buy and resell and keep your eyes and ears open. There are buying opportunities all around you.
"Finding A Very Valuable Treasure At Goodwill Is Like Winning The Lottery – How Many Times Have You Won That?"
---
Where To Sell
Ebay – I love ebay but you really have to be on top of things to avoid negative feedback – ebay is all for the buyers in most cases. Be very clear in your descriptions of your item and mention ANY flaws or have them clearly shown in photos. I use buy it now or best offer on items that I am sure of the value. If I am kinda unsure of the value I do an Auction format and let the market decide, however on real rare items I may do a HIGH buy it now with best offer option.
Etsy – Good vintage marketplace – I do not use it myself but a lot of people I know do use it and like it. Your items can sell for a bit more on etsy but you need  to sell more "high brow" items that appeal to the etsy shoppers and present your items in a sheek manner.

Amazon – Amazon FBA: (No Good For Vintage Sales) Fulfillment by Amazon (FBA) is an e-commerce service in which third-party vendors store their products in Amazon's fulfillment centers and the e-commerce giant picks, sorts, packs, ships, tracks and handles returns and refunds for these products. In addition to accounting for a huge portion of Amazon's revenue, FBA enables Amazon to offer other vendors' products alongside its own. Books, New Products, Boxed Items, Packaged Merchandise, Retail Items, New or Used (BOXED) Electronics, are what sells great on Amazon. It is not a good vintage selling platform
Craigslist – List stuff that is too big to ship or that appeals to your local market on craigslist. You will get some action on there – My local craigslist is good for larger hard to find items and furniture, household, tools, machines, mowers, and equipment.
Facebook Yard Sale Pages – These work well for all sorts of stuff but you have to have good prices below the market value or you may not get any bites.
LetGo App – Sorry I think it sucks
EBAY – Ebay gets the most sales and fastest sales for me so I like that. Just be prepared to lose 11%-15% or so from A-Z in fees and shipping calculation errors per listing.
Unload old stagnant inventory by having your own yard sale/garage sale – Or- Hit up a flea market in your region.
---
How To Value And Price Your Items
Some items are easy to price because you can easily find comparables (Comps) on Ebay. When looking items up on ebay PLEASE ONLY LOOK AT "SOLD LISTINGS" And NEVER price ites based off of the frontend of ebay where you see all of the asking prices and items with active bids. Click on "FILTER" and select sold listings only (If Using Ebay App On Phone). If on a PC, Laptop, Or Classic View, Click on Advanced Search and select "SOLD" listings only. This way you will see what items like your recently sold for and not what people are asking. I have seen $10.00 items being listed for $80 – $100 and they will never sell.
If you can not find your item listed on ebay then it must be rare or hard to find so a little research may be needed. Hit Google and start searching. I frequently use the image search results so I can see my item then go to the page that talks about it. If you can not identify an item ask for help! I ask for identification help on the facebook group with 150,000 members that love to help : http://www.facebook.com/groups/whatisthisidentification/
Worthpoint: I like worthpoint but I do not use it – Worthpoint
Worthpoint.com is a resource founded in 2007 by Will Seippel that eBay sellers can use as an effort to identify the products or items they intend to resell. It's a pricing research tool that empowers the seller with the ability to provide accurate descriptions of what they are selling as well. It is like searching ebay's deep archives. Sometimes worthpoint can be off a bit because the item could have been sold 5 years ago and the price could have dived or changed. Its a cool tool but I rely more on recent sales data from the sold item ebay search feature and Google.
Price low sell fast – Make profit and Move On!
Price low sell fast. You can have a house full of Gold but if you never sell it you are still broke. NOW is the time to sell! If you purchased a $100.00 item for $3.00 do not hold out for the $100.00 sale! Sell fast and flip that profit in to more items quickly. Sell the item for $70 and get a fast sell! Having cash flow to buy other items is key to scaling up fast. Be competitive. Also sometimes you will make bad buys and it is better to lose a little than sit on inventory. Take the loss and move on… Recover what you ca out of the bad buy and try again! I have made a lot of bad buys in the past and if I like the item I will keep it or I will sell it CHEAP and get that nasty bad buy out of my sight. It is not a failure when you make a bad buy! It is an education and you gained knowledge which is valuable in itself.
---
My Bottom of the box theory – And Time Layers
In some cases the cream rises to the top but when it comes to buying, sourcing, picking, and searching for Vintage Treasures the Bottom of the box always turns up treasures for me. From estate sales, yard sales, houses you pick through, and in general, I always go to the bottom of the box first! Heavier, smaller, more valuable items, are always in the bottom of the box. It could be the weight of a gold ring, coins, old trinkets, or it could be whoever packed the box put a smaller box of valuables in the bottom of the box. There are also the time layers!
Time layers:  if a basement has years of items stacked up in it, the older items would be at the bottom! Also when stacking boxes many people put the heavy boxes lower. I want to get to the older items so I hit the lower layers or further back in the closet to find older items. In closets the older clothes are usually to the far left or right out of the way of regular use (or packed away elsewhere).
---
Sourcing Grandma and Grandpas Junk Drawers
There is no better place than "Grandparents Junk Drawers" to find Valuable Vintage SMALLS than in the dresser drawers, junk drawers, storage cabinets, and tucked away.  Vintage smalls (Items that fist in the palm of your hand or that are easy to place in a curio or on a shelf are my #1 sellers. From vintage military items like patches, photos, medals, railroad items, coins/tokens, old paper items (postcards), Jewelry, Vintage Trinkets, and more. Vintage smalls sell like crazy. I have made more money off of vintage junk drawer finds than any other type of item. There are items you will have no idea what they are and they may appear worthless and after listing you will find out the item is a $500.00 plastic railroad token, or a $50 bakelite button, or a simple lapel pin, or political button worth $200. I would rather have a shoe box of vintage eclectic smalls to resell than a truck load of antique furniture and 20 pair of new nikes.
Watch or Follow My Instagram for new posts I will be adding that will show you my top selling Vintage Smalls.
---
Selling A Product In A Crowded Market – Like T-Shirts or Electronics
If thousands of other people are selling the same type of item you are trying to specialize in like t-shirts or vintage t-shirts, you need to separate yourself from the crowd and be seen by potential buyers. It is a good idea to find a Niche within our Niche. If you are selling T-Shirts, Narrow It Down To A Specific Market Like FANDOM or POP Culture T-Shirts or 80's Music T-Shirts, Skater T-Shirts, Distressed T-Shirts, or whatever you can that is not such a crowded Niche or Market. Establish yourself as the authority in your Niche. Talk, Blog, YouTube, Instagram, Facebook all about your Niche. Hashtag your ass off on instagram to draw in the buying crowd and stay active and engage all your followers by commenting on their comments and being HUMAN! Check out GaryVee for social media motivation.