After emailing and comparing this photo with Robert Bondurants family pictures (The grandson Of Jack Bondurant). It is very likely that this is a rare photo of some of the Bondurant Boys! The photo as found in the Roanoke/Franklin County area in SW Virginia. What is even more compelling evidence other than the striking resemblance of the brothers Howard, Forrest, and Jack Bondurant, is the inclusion of moonshine, guns, and the clothes worn which are how the Bondurant Boys would portray themselves in a planned photo. If that was not enough the Word Bondurant is visible on the back of the photo in old style cursive possible misspelled but hard to read.
We are waiting on a letter from Robert Bondurant confirming that this is in fact the Famous Moonshine pioneers from Franklin County VA. The photo shows a shotgun in one hand, pointing at young man in center (holding a gun or jug of Shine) , and another young man pointing a pistol at center man also (Holding small handgun), also 2 young men on bottom one drinking from moonshine half gallon jug with nice country dapper look (left), and on the bottom right a fella drinking shine from a pint bottle wearing overalls. One thing is for sure as to what these boys are up to. They are moonshiners from Franklin County VA.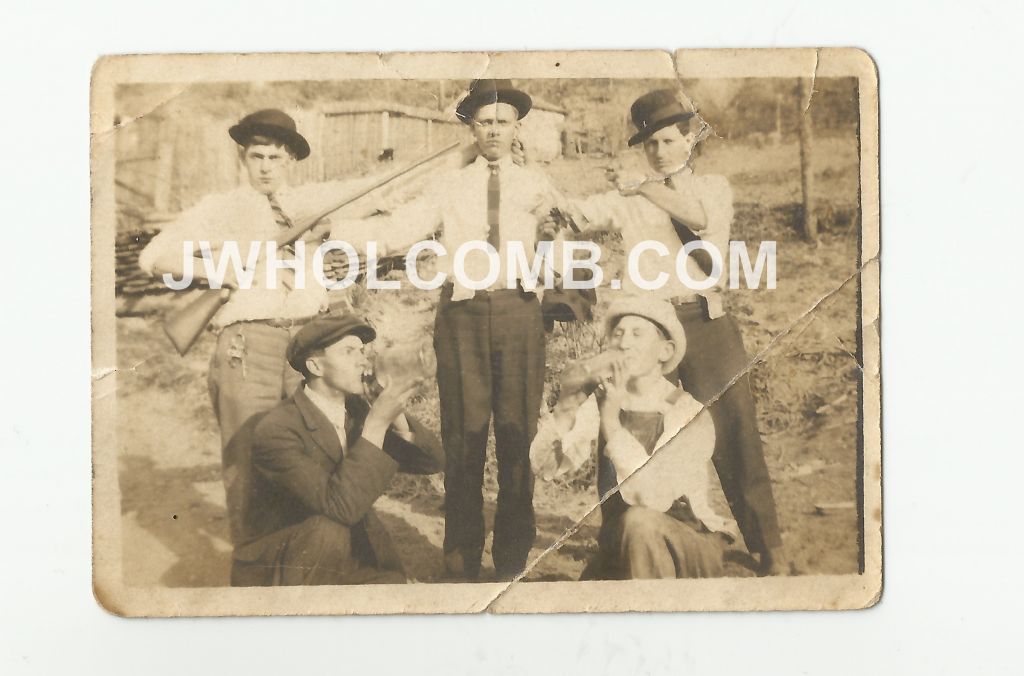 Possible Bondurant Boys – Famous Moonshine Gang/Brothers Franklin County VA
Are These The Bondurant Boys From Franklin VA? It is strong possibility. What do you think? Comment On This Post and let us know!