ANTIQUE PHOTOGRAPHIC PLATE SIZES
Commonly used in describing antique photos like Daguerreotypes, Ambrotypes and Tintypes – The "plate sizes" used in referring to antique daguerreotypes, ambrotypes, tintypes, and other photographs stem originally from the daguerreotype , for which the first plates manufactured were approximately 6.5 x 8.5 inches (16.5 x 21.5 cm) in size. Smaller size daguerreotypes were then defined in terms of how many plates of the smaller size could be cut from such a "full" or "whole" plate. These plate sizes became standardized and were subsequently used for the photographic formats which followed on the daguerreotype. Plate sizes are still the standard method for referring to the dimensions of these 19th century antique pictures.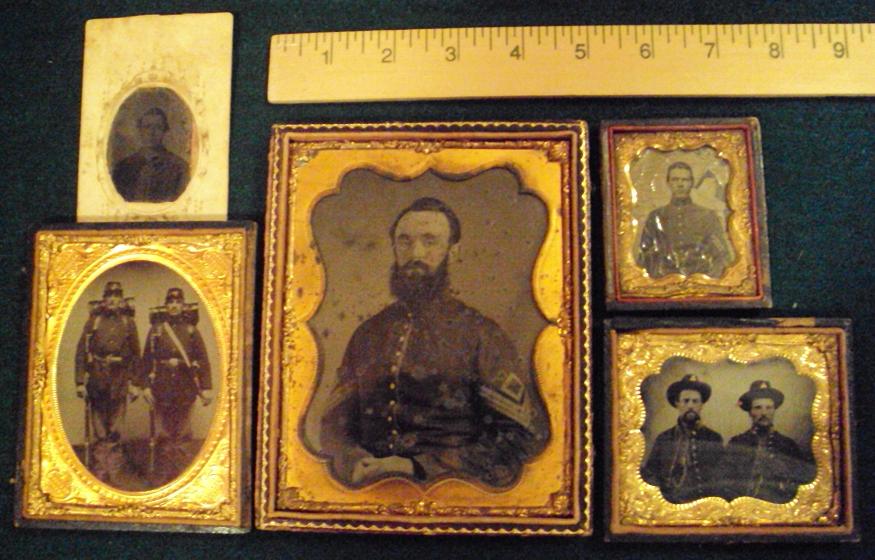 FACT: The daguerreotype was the first commercially successful photographic process ( 1839-1860) in the history of photography. Named after the inventor, Louis Jacques Mandé Daguerre, each daguerreotype is a unique image on a silvered copper plate. The polished copper plate is treated with a chemical that reacts to make an image.
Antique Photo Plate Sizes:
Whole Plate:    6.5 x 8.5 inches    (16.5 x 21.5 cm)
Half Plate:    4.25 x 5.5 inches   (11 x 14 cm)
Quarter Plate:    3.25 x 4.25 inches    (8 x 11 cm)
Sixth Plate:    2.75 x 3.25 inches    (7 x 8 cm)
Ninth Plate:    2 x 2.5 inches    (5 x 6 cm)
Sixteenth Plate:    1.375 x 1.625 inches    (3.5 x 4 cm)