Here are 7 must have tools for antique pickers and junk buyers.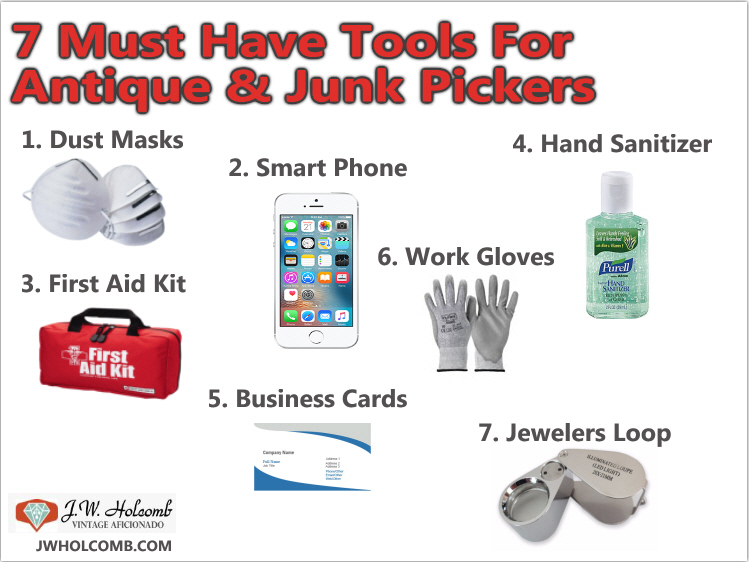 Here are some items I keep with me in my VAN on every antique or junk pick I go on. This is just a sample of things you need.
Dust Masks – Although I rarely use them because they restrict my breathing, I should because the dust and junk I breathe in does mess me up for days sometimes!
Smart Phone – Doubles as a flashlight, Google, Ebay, Call A Friend, you need a smart phone to research items and take photos also. Keep a good Photo diary of your picks and finds.. You will be glad you did!
First Aid Kit – I have been bitten, stung, cut, scraped,bruised, stabbed, fallen, and have been clunked on the head more times than I can count. Clean wounds and cover them quickly. Infection is common and MRSA is a real threat.
Hand Sanitizer – Kills nasty germs and there are a lot of germs in old houses! Use as needed to keep clean. I use it on my hands and arms after digging for treasures!
Business Cards – you gotta have em – give em out – Get more picks!
Work Gloves – Protect your hands with quality work gloves!
Jewelers Loop – Lets you read small writing on jewelry, silver items, hallmarked items, and anything you need a closer look at. YOU NEED ONE!