Historical Americana Art For Sale
J.M. Enzing-Miller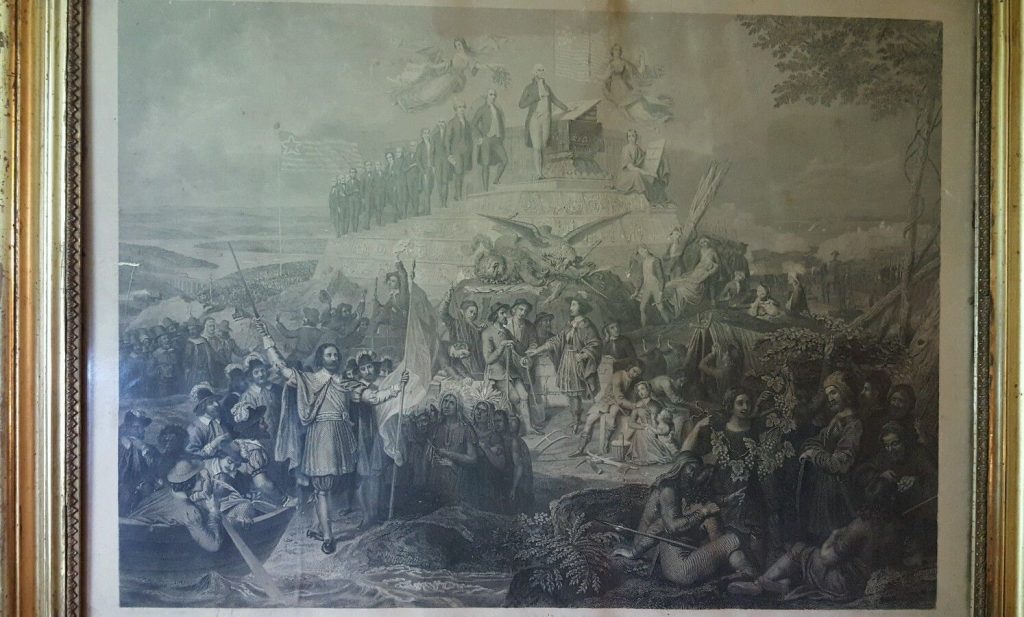 Very rare find great piece of American History and historical art by a well noted and documented artist. Read in full please and consider adding this beautiful piece to your collection or museum. It is in the original frame see photos carefully. Frame is wood entire frame measures 38×30 inches approximately.
John Michael Enzing-Miller. "Family Monument From the History of our Country." New York: Jos. De Buelow, 1863. Engraving by J.M. Enzing-Miller. 21 7/8 x 29 7/8. Scuffing in margins with a few chips and flaws along margin edges. Some scattered wear in sky and a few minor scuffs as well. Print has been conserved well in framing with expected wear… very good Strong impression.
Price: $1450.00 (Make Offers)
A wonderful allegory chock-a-block full of images "From the History of our Country." This print was issued in the midst of the Civil War and its purpose was clearly to present the glorious past of the United States as a graphic justification for the fight to preserve the country.
The base of our history is rendered as the discoveries of Columbus-dated 1492 and with the explorer receiving the submission of Native Americans wearing the headdresses of the Plains Indians-and the Vikings-dated 1000 and depicted being shown the grapes from which they named Vinland. Just above is a line of early settlers, from the Pilgrims to a frontier family living in a hide hut6bove and to the right are scenes from the American Revolution, including a rather graphic image of the American Eagle ravaging the British Lion and Unicorn. In the upper left is a scene showing the growth and prosperity of the nation, with vast lands stretching off into the distance, a city on a river crowded with ships, and locomotives steaming by, while above this flies and American flag.
The entire image is crowned by a pyramid that mirroring the Acropolis, faced with the shields of the states of the union, and upon which stands line of fifteen Presidents (interestingly no Lincoln), at the head of which Washington holds a hand on the Constitution, while covering his heart with his other hand. Seated nearby is a figure holding the Declaration of Independence, and flying above are goddesses of Liberty and Justice. In the distance, behind the Presidents, is shown the Capitol surmounted by another large American flag.
The artist, John Michael Enzing-Miller, who also engraved this impressive print, was a German-born painter who emigrated to America 1848, exhibiting his works at the National Academy and American Art Union. This print was a paean to his adopted country, and he intended the viewer of this teeming "Family Monument" of American history to be moved to wonder how anyone could wish to render the nation asunder
Price: $1450.00 (Make Offers) 
Contact: 540-632-1755